Cloud Adjacency addresses the very barriers and challenges facing digital transformation programs while delivering pragmatic, proven, de-risked digital modernization outcomes.
DISRUPTION

RISK AND CHANGE

Organizations need to refocus
Skills gap

Technology budgets and delivery prioritize maintaining
existing / legacy technologies

Accelerated rate of technology change
Lack of resources, time, and focus on digital innovation
Increased transitional complexity
Escalating technical debt

Tempered delivery
Given established technology landscape commitments, investments, and rate of overall industry change / disruption there is risk of the hysteresis cycle in technology refresh programs where intended changes lag investment.
Organizations can leverage established technology and infrastructure landscapes within a cloud-adjacent, digital edge context helping foundation its modernization enablement.
Both, the Oncore Cloud Adjacent Method and Platform help organizations align industry-validated strategies along with established technology delivery models, infrastructure, and investments into a broader digital modernization program.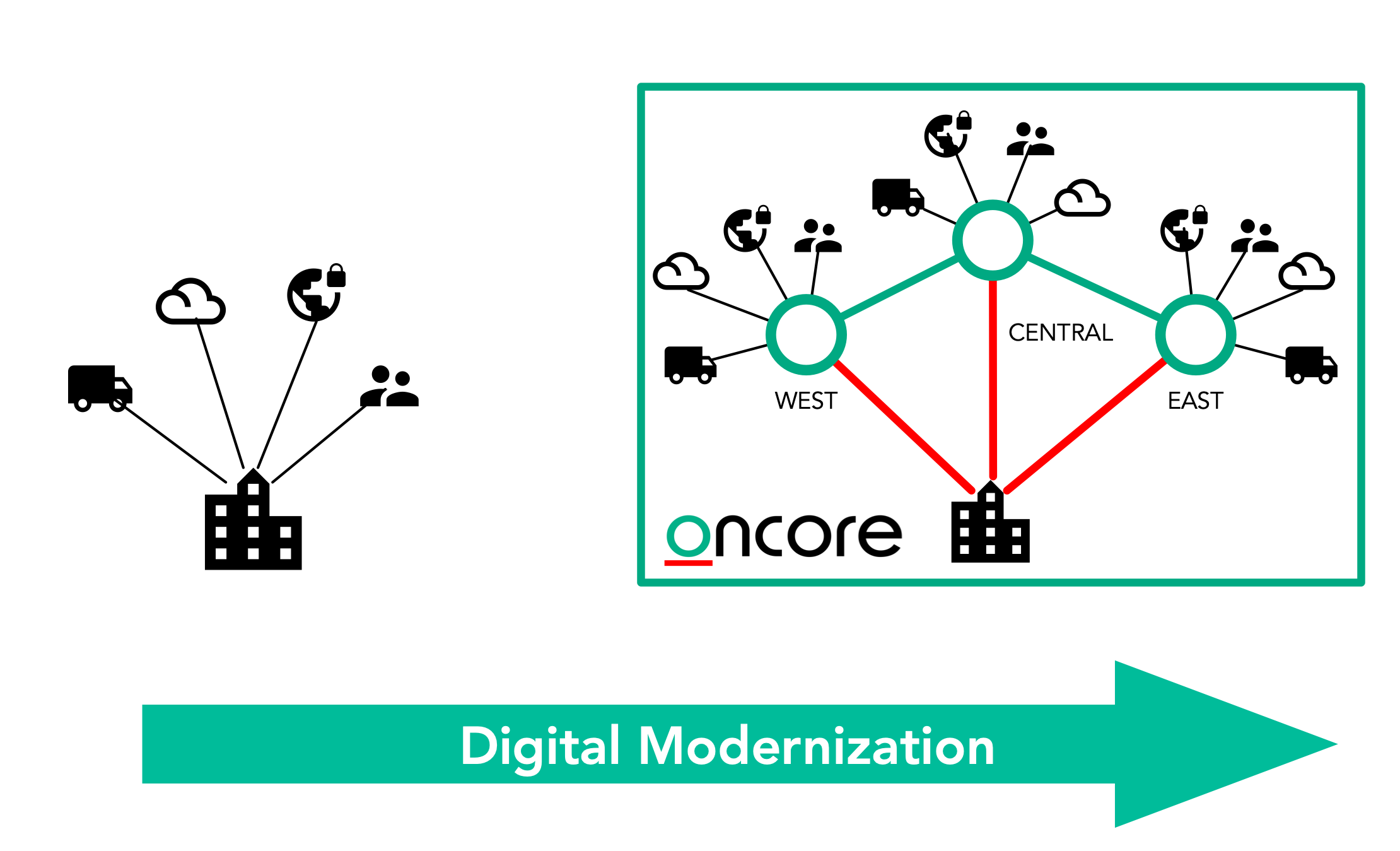 Learn More:
Oncore's Cloud Adjacent Method considers a pragmatic program focused on extending cloud-native enablement without compromising on security, network, governance and compliance controls.
Cloud Adjacency encompasses modern hybrid cloud services allowing organizations to maintain control over technology ecosystems while supporting digital modernization streams and minimizing internal disruption to business, resources and operations.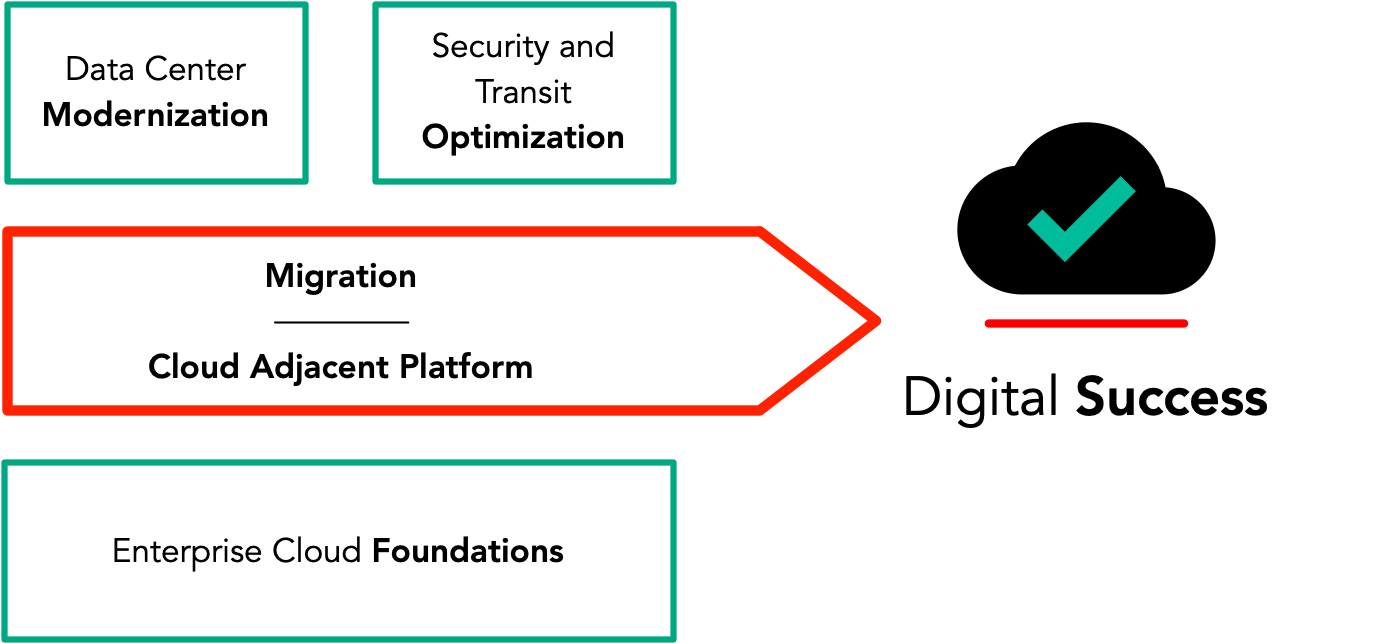 The Method consists of four curated delivery streams, including:
Enterprise Cloud Foundations
Alignment of cloud strategy and roadmap, governance, security / network perimeter considerations as well as DevOps practices and tooling. At its outcome, Enterprise Cloud Foundations results in lasting, industry-derived perspectives intended to help support a successful, optimized and scalable adoption of cloud delivery ecosystems.


Data Center Modernization
Infrastructure and Data Center centric review, strategic planning and alignment on extending and enabling existing technology ecosystem systems across public environments. Data Center Modernization provides a three-dimensional perspective of enterprise technology infrastructure considering:

On-premise Infrastructure and technology elements extending existing investments and reducing disruptions associated with adoption of cloud-native services and delivery;
Cloud-native applications and workload migration candidates (including dependency mapping);
Cloud-adjacent digital edge infrastructure services enabling hybrid and multi-cloud outcomes.



Security and Network Transformation
Natively extend established network and security perimeters across multiple cloud environments and service geographies. Security and Network Transformation decouples traditionally centralized perimeters enabling cloud-scale and reach while extending established security policies natively into cloud providers.


Workload onboarding and migration
Migration of extensive workloads / large data sets into cloud-native environments leveraging the Oncore DataStream appliance and the Cloud Adjacent Platform.
The Platform is represented by strategic infrastructure services in line with your organization's cloud data path supporting hybrid digital modernization outcomes. It's hosted and managed within Oncore's private environments across Equinix data center metros, including:
Toronto (YYZ-01)
Toronto North (YYZ-02)
Montreal (YUL-01)
UniversalEdge

Delivered as a fully managed service, UniversalEdge removes traditional complexities associated with supporting hybrid and public cloud interconnection topologies:

Extend existing investments and established enterprise network and security perimeters / infrastructure to the edge of public clouds;
Aggregate network carriers, cloud providers, and Internet transit into a single managed service;
Privately interconnect with partner, provider, and cloud provider networks, including GCP, among others;
Diversify geographic reach, availability, and performance of business service delivery;
Enable Cloud Adjacent elastic infrastructure in-line with the cloud data path;
Secure with exclusive industry-leading cybersecurity extensions.

UniversalEdge is a managed high-performance network and interconnection on-ramp, connected with in-market carriers and public cloud providers.

Native, transparent customer-directed security perimeter;
Secure, high-performance interconnection;
Private cloud access via L2 transit, Equinix Fabric, or Direct Cross Connection;
On-net and peered with Cloud public services (e.g., Workplace / Office 365, cloud storage, PaaS / SaaS, etc.);
Physical proximity to cloud edge services;
Fully managed transit + optimized Internet presence;
Complete path monitoring (UniversalEdge +/- 1 hop).
| | |
| --- | --- |
| | SmartRack |
| | SmartRack allows the extension of established network and security perimeter infrastructure at the edge of cloud service providers. It sets enterprise-specific perimeter services at the edge of cloud providers, extends established security policies, and simplifies the integration of cloud-native ecosystems into established enterprise technology landscapes. SmartRack is available across all Cloud Adjacent Platform Metros. |
Private Storage

Private, massively scalable storage at the edge of cloud service providers. Leveraging the S3 object storage protocol, organizations realize single-instance storage efficiencies when referencing cloud-adjacent stored data from multiple cloud providers. All data remains stored in Canada, at Equinix facilities, and leverages both at-rest and in-flight encryption while providing the ability to self-direct individual object and / or bucket-level security policies.


Oncore data migration services are available to assist with large-volume data onboarding leveraging the DataStream Migration Appliance. Data migration services are part of the Cloud Adjacent Method.
Data Protection Platform

Managed Cloud Adjacent Data Protection of your entire technical estate. We leverage familiar Data Protection interfaces, including VEEAM, Commvault, Avamar, and Veritas, enabling flexible recovery scenarios within Public Cloud resources or your private, secure Cloud Adjacent services.


The Oncore Data Protection Platform delivers modern protection of your organization's digital assets beyond simple backup. With multiple regions available, replicating data between sovereign geographies establishes a secure enclave for all your organization's digital assets.